UAE innovation centers
Innovation center IN5
Perhaps one of the best features of In5 is its collaboration with global giants such as Microsoft, Oracle, and Amazon Web Services. This enables entrepreneurs to access resources that would otherwise be unavailable or too expensive. Startups at In5 also benefit from mentorship programs provided by leading industry experts who offer invaluable advice and guidance on how best to grow their businesses.
In addition to mentorship services, In5 also offers training workshops designed for entrepreneurs at all stages of development. Such workshops cover topics such as recruiting funding opportunities, marketing strategies, and customer acquisition strategies that have been tailored specifically for startups from different backgrounds and regions.
Finally, it's worth noting that In5 has enabled UAE-based entrepreneurs to make connections with partners from around the world. This helps them gain international exposure for their products and services while offering potential customers more options.
Mubadala Innovation Center
The Mubadala Innovation Center is a leading driving force in the United Arab Emirates' tech industry. As a result of their dedicated efforts, the center has become an integral part of the country's quickly-growing ecosystem – receiving investments from both local and international companies. Mubadala's solution-focused approach has enabled them to make progress in several areas, with innovation being at the heart of it all.
In addition to supporting new ideas and implementations, the center also offers their customers access to cutting-edge technology through their expansive portfolio of products and services. They are committed to creating mutually beneficial relationships with UAE start-ups in order to drive technological advancement within this rapidly changing landscape. This commitment extends beyond financial resources; as a part of their mission statement, they maintain status as a global knowledge hub that seeks out new partnerships to bring innovative technologies closer to humanity for collective benefit.
HUB71
HUB71 is a global technology ecosystem designed to help startups in the UAE succeed. Based in Abu Dhabi, the initiative provides a range of services to help entrepreneurs launch and expand their businesses, including access to global markets, capital ecosystems, a global network of partners, and an active community of highly skilled professionals.
An innovation center is a physical space, typically located within a business or organization, that is dedicated to fostering creativity and innovation. It is designed to provide an environment that encourages collaboration, experimentation, and the development of new ideas. Innovation centers often feature open workspaces, meeting rooms, and other amenities that are conducive to creative thinking. They may also host events such as hackathons and workshops to further promote innovations.
By providing access to resources and connections that are difficult for new companies to obtain on their own, HUB71 allows startups to expand their reach and become internationally competitive. The ecosystem gives entrepreneurs access to the latest technology and ideas from around the world, allowing them to develop innovative products or services that can be marketed globally.
Dubai Design District
Dubai Design District (d3) is the region's most innovative creative space and a cultural hub for designers and creative entrepreneurs. d3 was launched as part of TECOM Group's vision to develop an inspiring center in which makers, innovators, fashion creators, researchers and academics can collaborate on ideas that push ahead the boundaries of creativity – with design at its focus. Located strategically between Downtown Dubai & Business Bay – d3 provides an inspiring cityscape for work or leisurely pursuits featuring world-class architectural gems from all eras abound in this vibrant district including art galleries, cafes & restaurants spread across distinct neighbourhoods such as Sawrooh Street Culture District celebrating Fashion Street Art Theatre.
Emarat Complex retail square showcasing artisanal pop-up stores; Park World embracing retail outlets all coupled by Futures Square tech innovation destination offering industry events and networking opportunities to foster collaboration among innovators under one roof! Designers have access to specialized resources such as educational institutes dedicated solely devoted offering the best learning experience tailored made around their practice combined with leading software tools aiding in their workflow needs enabling them to accelerate output production cost-effectively through easily accessible luxury services – apartments flats co-working spaces libraries etc…
Dubai Science Park
Dubai Science Park (DSP) is a science-focused community in the United Arab Emirates, which supports entrepreneurs and businesses of all sizes. Founded in 2005, it has seen continual growth to now encompass more than 350 different companies with over 3,600 people employed across industries such as life sciences and energy use and environmental protection.
As well as looking after business interests within its own boundaries DSP also works on collaboration practices for many global concerns including developing standards for laboratory programmes worldwide pertaining to drug discovery at the international level; helping manufacturers navigate new reforms around biotechnologies; pioneering digital health trials from UK & UAE partners; even offering tax refund incentives luring foreign investment into the region. In this sense, DSP strives not only to support business operations but everyday research too".
Dubai Media City
Dubai Media City (DMC) is a free zone dedicated to the media and entertainment industry, located in the heart of Dubai and is one of 10 TECOM Group districts. It was established in 2000 as part of the Dubai government's plan to diversify its economy and promote creativity and innovation. The purpose of Dubai Media City is to provide a platform for media companies to operate in a thriving business environment that offers world-class infrastructure, state-of-the-art facilities, and access to a network of industry professionals.
It is home to over 2,000 companies including global giants such as CNN, BBC World News, and Sony Pictures. The city has become a hub for creative talent from around the world with its vibrant mix of media-related businesses ranging from advertising agencies, production houses, and music studios to freelancers and start-ups.
Dubai Media City presents numerous benefits for investors who are seeking to expand their business operations in the region. One of the most significant advantages is its strategic location, which offers easy access to various markets across the Middle East and beyond. Additionally, investors can take advantage of a world-class infrastructure that includes state-of-the-art facilities and technology, as well as a supportive business environment that encourages innovation and growth.
The city also provides access to a diverse pool of talent, with skilled professionals from around the world attracted to its vibrant media industry. Furthermore, Dubai Media City offers attractive tax incentives and a streamlined regulatory framework that makes it easier for investors to set up and run their businesses. Overall, these benefits make Dubai Media City an ideal destination for investors looking to capitalize on the region's growing media industry.
DIFC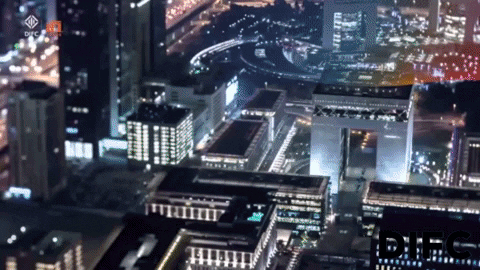 The DIFC is an international financial free zone and operates independently of the rest of the UAE, boasting its own laws and regulations that meet global standards. It provides a level-playing field for both regional firms and international investors to access advanced capital markets products in a world-class regulatory environment. With multiple layers of investor protection within the world's leading legal & regulatory frameworks, it has opened up opportunities for companies to expand their presence across borders without sacrificing efficiency or stability.
Companies are also offered first-class physical infrastructure in terms of office space, telecommunications systems and IT networks on par with developed countries, so customers can more quickly set up shop at this finance-friendly destination which offers many advantages like zero tax rate on all businesses based out here no matter what ownership structure they take; Shariah-compliant services such as Islamic banking & investment vehicles; special exemption from some local types taxes etc., making doing business easier than ever before!
DIFC Metaverse Platform
DIFC Metaverse Platform has the potential to drive significant economic growth in the UAE and provides a unique platform for companies and entrepreneurs to launch innovative products, services, applications or experiences. The DIFC Metaverse Platform will enable businesses to take advantage of existing online platforms such as Second Life, Decentraland and Hash grid in order to create new digital assets that can be used within this virtual environment. This could include virtual spaces on which people can interact with each other (such as education solutions), product stores that utilize blockchain technology, financial tools powered by cryptocurrency or 3-D video games – all integrated into an immersive world built using cutting-edge technology.
Furthermore, it allows users to gain access to more secure pathways into the global economy while having full control over their data privacy due to their use of decentralized technologies like blockchain through which they transact without intermediaries, enhancing security. Allowing developers and start up's easy onboarding processes along with supporting infrastructure for its users including regulatory body support make UAE is positioning itself at the forefront of technological innovation being a hub of the latest technological advancements hence granting it ideal conditions to become a major player in various industries from finance, healthcare, logistics among others. Working as per the framework outlined by DIFC Metaverse Platform also opens doors for small business owners endeavouring to executive projects online following upcoming trends or launching gaming applications aimed at the Next Generation Video Gaming industry grasping consumers' worldwide attention.
Dubai Future Foundation
The Dubai Future Foundation builds a cohesive innovation ecosystem that includes, accelerator programs, incubators, labs, regulatory sandboxes, and knowledge platforms – all with the purpose of challenging the status quo and designing a future-ready city powered by future leaders and disrupters. Our activities, though interlinked, can be broadly categorised into five strategic business units.
They build the skills and capacities of future leaders in the government and private sector through an ecosystem of future-facing initiates. We also empower Arab youth around the globe with coding skills —which we consider the language of the future — enabling them to spearhead the development of their communities.
Dtech
An initiative of Dubai Silicon Oasis Authority, Dtec is designed to conveniently set up a new business in Dubai. From 100% business ownership, visa processing, 24/7 access, high speed wifi, a range of creative meeting and events spaces, Dtec has it all. Setting up a business has never been easier!
For technology startups and entrepreneurs looking for flexible coworking or office space in Dubai for rent, Dtec offers a nurturing, supportive community from which to set up their new business. The largest technology innovation hub in the MENA region, the 10,000 sqm creatively designed workspace hosts an integrated ecosystem, home to hundreds of startups, SMEs and technology entrepreneurs from around the world.
Venom Foundation
A Blockchain Without Boundaries
Venom's mission is to create a blockchain that will be the core infrastructure for a global ecosystem of Web3 applications, with ultra-fast transaction speeds and infinite scalability to meet the needs of an ever-growing user base.
Venom's blockchain offers scalable transaction solutions through its sharding protocol and enables future scalable economies through community-created sub-chains. This open and transparent ecosystem welcomes participation from all members. Venom provides a virtual machine to execute smart contract code on the Venomb blockchain. The network is the foundation for central bank digital currencies (CBDCs) and Web 3.0 applications.
Twofour54
twofour54 is a business incubator that offers production facilities, training, and support services to the media industry. It works with businesses in television, radio, film, publishing, online, mobile, music, gaming and animation to create local content and grow the Arab media industry. It is a tax-free media and entertainment free zone thatfacilitates the development of Arabic media and entertainment content in the region. The company offers its users with business setup, government and travel, film and television, professional training, creative lab, investment, and media zone authority services.
Plug and play
Plug and Play is the ultimate innovation platform in the Middle East uniting startups with the unrivaled tech expertise of Silicon Valley and financial institutions for a changing world.
In today's rapidly changing world, innovation is the key to success and staying ahead of the competition. In this endeavor, Plug and Play acts as a beacon of transformation, facilitating collaboration between entrepreneurs, corporations, investors and governments around the world. Through its extensive network of startups, leading global corporations, venture capital firms, universities and government agencies, Plug and Play is revolutionizing the way innovation is supported and enabled.
Sheraa
In a world where challenges and opportunities coexist, Sheraa, the Sharjah Entrepreneurship Center, stands as a beacon of hope, belief, and empowerment. Sheraa's vision is centered around the boundless potential of humanity and its capacity to drive positive change. With an unwavering commitment to fostering a generation of entrepreneurs, Sheraa is on a mission to shape a better future for our societies and beyond.