Elevate Your Lifestyle with Perfect Live: Your Gateway to Outdoor Activities
If you're ready to take your lifestyle to new heights, look no further than Perfect Live. This all-in-one lifestyle management app is here to revolutionize the way you live, offering you exclusive access to a world of luxury items and entertainment, all tailored just for you. From High-Flying Dining to Deep Dive Adventures, Perfect Live's 24/7 GPT-based offerings have got you covered.
Stay effortlessly updated on cutting-edge the most sought-after events, all with a few taps of your finger. Let Perfect Live's concierge service be your guiding light, helping you explore new places, savour mouthwatering cuisines, and elevate your lifestyle in unimaginable ways.
Indulge in Something Exceptional Today – Perfect Live app is Your Passport to Luxury Experiences. With its user-friendly interface and tailor-made offerings, you can make every moment count, anytime, anywhere. No matter the occasion, Perfect Live is your go-to resource for unforgettable experiences that will leave you craving more.
Ready to go for adventures? Dive into Perfect Live and Unlock a World of Possibilities! Experience unmatched convenience and save precious time while gaining access to entertainment and travel deals found nowhere else. Make Perfect Live an essential part of your life and discover the true meaning of living in style.
Your journey to the extraordinary starts now – Download Perfect Live and unlock your inner trailblazer!
Experience Culinary Heaven with Perfect Live
Indulge in an extraordinary culinary adventure like no other with Perfect Live! Elevate your dining experience to new heights as you're whisked 50 meters above the ground. Feel the thrill and excitement as you savour mouthwatering delicacies while suspended in the sky. This breathtaking fine dining experience is not just a meal, but a once-in-a-lifetime opportunity to create unforgettable memories that will leave you awe-inspired.
Imagine being seated at a beautifully set table, surrounded by panoramic views of Dubai's iconic skyline, as you embark on an unforgettable culinary journey. Delight in the impeccable service and attention to detail, as world-class chefs craft exquisite dishes that are as visually stunning as they are delectable. This next-level dining experience promises to ignite your taste buds and ignite your imagination.
As you indulge in a symphony of flavours and textures, you'll feel an exhilarating sense of adventure mingling with the elegance of gourmet cuisine. This unforgettable experience will leave a lasting imprint on your memory, as you relish every bite and marvel at the breathtaking views that stretch as far as the eye can see.
Dive Into an Unforgettable Underwater Adventure
Plunge into a mesmerizing realm beneath the waves and unlock the secrets of Deep Dive Dubai with Perfect Live. Brace yourself for an unforgettable journey as you embark on an underwater adventure like no other, where beginners and professionals alike can immerse themselves in a captivating oasis teeming with wonder and discovery.
Dare to push the limits of exploration as you descend into the deepest pool ever created. Deep Dive Dubai beckons adventurers with its jaw-dropping depth of 60 meters, shattering records and setting the stage for unparalleled diving experiences. This aquatic marvel promises thrilling challenges and unparalleled vistas at every turn.
Unleash your inner explorer and uncover the mysteries of an abandoned sunken city brought to life in the heart of Dubai. Inspired by the pearl-diving heritage of the UAE, Deep Dive Dubai's awe-inspiring underwater landscape mesmerizes with its breathtaking beauty. With multiple dives required to fully immerse yourself in this meticulously designed and captivating underwater world, prepare to embark on a journey that will leave you spellbound and yearning for more.
Immerse the Thrill of Skydiving with Perfect live
Soar Above the Iconic Palm Jumeirah: At Skydive Dubai's premium dropzone, the Palm DZ, you can experience the thrill of a tandem skydive while enjoying an awe-inspiring view of the world-famous Palm Jumeirah island. Imagine the rush of adrenaline as you ascend to 13,000 ft, taking in the breathtaking sight of this iconic landmark from above. With our qualified tandem instructors by your side, you'll have the adventure of a lifetime, combining the exhilaration of skydiving with the beauty of Dubai's most recognized destination.
Or dive into the Majestic Desert Landscape: For a truly unforgettable skydiving experience, head to Skydive Dubai's desert DZ, located just 35 km outside the city. Picture yourself soaring above vast and mesmerizing sandy dunes. The sensation of gliding through the air, surrounded by the serene beauty of the desert, is nothing short of magnificent. Whether you're a thrill-seeking tourist or an aspiring skydiver, our tandem skydives offer an unparalleled adventure in one of the world's most captivating landscapes.
Soar Above Dubai's Skyline with Perfect Live
Get ready for an exhilarating adventure like no other as Perfect Live takes you on a thrilling journey through the Dubai Marina skyline. Prepare to be amazed by the world's longest urban zip line, an extraordinary addition that will leave you breathless. Feel the adrenaline surge through your veins as you soar above the bustling city, taking in breathtaking panoramic views that stretch as far as the eye can see. XLine is not just a zip line; it's an adrenaline-fueled experience that will leave an indelible mark on your memories of Dubai.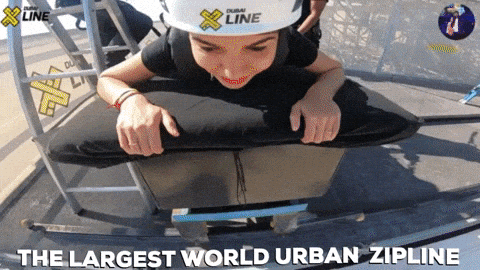 Experience the ultimate rush as you take the plunge from the highest point of Dubai Marina. Feel the wind rush through your hair as you zip through the air at incredible speeds, defying gravity with every heart-pounding second. The stunning Dubai skyline serves as the backdrop to this jaw-dropping adventure, offering a unique perspective on the city's architectural wonders. XLine is not just for thrill-seekers; it's an opportunity to witness Dubai's iconic landmarks in a way you've never imagined.
If you are fond of relaxation and tranquillity, look at our other offers: Indulge Luxury Vacations and World-Class Dining Experiences in the UAE with Perfect Live app;
The high standard of your life with Perfect Live: luxury vacations and the best entertainment in the UAE