Your Child's Personal Teacher Niko
MeowLanguage is a unique and playful mobile application that has gained immense popularity among language enthusiasts and cat lovers alike. This innovative mobile application offers a fascinating twist to the linguistics world. Niko, the friendly companion for kids allows users to explore and learn these languages, offering a range of interactive tools and resources to enhance their linguistic journey.
With the app, users can immerse themselves in a captivating learning experience beyond traditional language education. The mobile application provides an array of engaging activities, such as interactive lessons and vocabulary exercises, all designed to make the learning process both enjoyable and educational with its user-friendly interface and extensive content.
With its engaging content, inclusive approach, and vibrant community, this innovative mobile application has carved its niche in the language-learning landscape, captivating the hearts and minds of users around the world. So, embrace your inner linguist and embark on a meowtastic journey with Niko!
Our innovative app prioritizes spoken language practice. We understand that speaking is the cornerstone of mastering foreign languages, and that's why our immersive platform focuses on helping kids develop their conversational skills. Say goodbye to traditional language learning methods and embark on an exciting journey where the ultimate goal is to confidently speak in the target language. Experience language acquisition like never before with our dynamic and engaging virtual tutor.
Explore the World with Niko, Your AI-Language Assistant
Unlock the power of Artificial Intelligence (AI) and spark your child's curiosity for language learning! Introducing Niko, your child's personal language assistant. With just a simple scan using your phone's camera, Niko will reveal the names of household items in the language you are learning. Say goodbye to tedious memorization and hello to interactive and effortless learning with Niko's cutting-edge technology. Watch as your child's language skills soar to new heights, one object at a time!
Imagine the excitement on your child's face as they explore their surroundings and effortlessly expand your vocabulary. Niko transforms ordinary objects into fascinating learning opportunities, making language acquisition a breeze. So, whether it's a table, a chair, or even a teddy bear, Niko has all the answers. Give your child the gift of knowledge and watch their language journey unfold with Niko's AI-powered language learning revolution.
Augmented Reality: Connecting Kids with Virtual Friends and Adventures
Prepare to be amazed as Niko steps out of the screen and into your child's world, thanks to mind-blowing technology that makes him virtually indistinguishable from real life. Watch as your child's trust in Niko deepens, as they come face to face with this lifelike companion.
Discover why it is the ultimate choice for success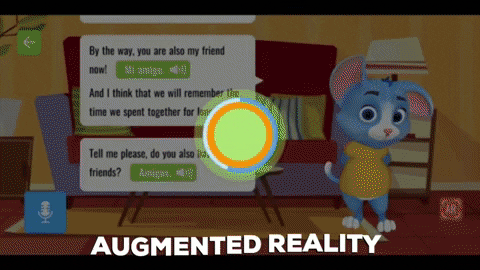 🌍 Open doors to high-paying jobs, global adventures, and meaningful connections by equipping your child with the power of multiple languages.
⏰ Maximize your child's spare time with an efficient and engaging language learning experience on their phone, while you focus on your own business.
🎓 Niko is your child's personal foreign language teacher, supporting their learning journey and complementing their tutor-led classes. Discover if your child has a passion for learning!
🔓 Expand horizons, boost confidence, and unlock a world of opportunities by empowering your child with the ability to communicate with diverse cultures and communities.
Choose today and watch your child soar beyond linguistic boundaries!