MONDAYS HUB71 COMMUNITY BREAKFAST
Hub71 Community Breakfast Mondays is an event held every week by the Hub71 office in Abu Dhabi. It's a great opportunity for entrepreneurs and tech startups to network, discuss ideas, and collaborate on projects. Attendees have the chance to mingle with each other, share thoughts and insights, pitch their business ideas and hear what other startups have to offer. The Hub71 team provides full catering services so there is no worry about having to bring your own meal!
Nicolina Lauck talks about proactive healthcare perspectives at the Hub71 community breakfast and meets with blogger Ilham Galiakhmetov.
At Monday's Hub71 Community Breakfast, co-founder and CEO Nicolina Lauck talked about the vision for her innovative healthcare startup GlycanAge. GlycanAge, which was created to revolutionize preventive health care, was founded on the promise that "health care" should start with taking care of our health before we encounter a problem.
INNOVATION CENTER HUB71
HUB71 is a global technology ecosystem designed to help startups in the UAE succeed. Based in Abu Dhabi, the initiative provides a range of services to help entrepreneurs launch and expand their businesses, including access to global markets, capital ecosystems, a global network of partners, and an active community of highly skilled professionals.
An innovation center is a physical space, typically located within a business or organization, that is dedicated to fostering creativity and innovation. It is designed to provide an environment that encourages collaboration, experimentation, and the development of new ideas. Innovation centers often feature open workspaces, meeting rooms, and other amenities that are conducive to creative thinking. They may also host events such as hackathons and workshops to further promote innovations.
Meeting Ilham Galiakhmetov and Nikolina Lauc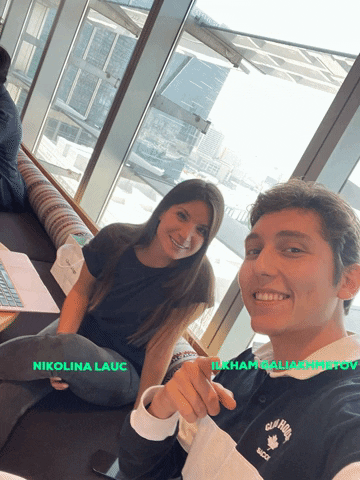 Ilham Galiakhmetov, who is a top TikTok blogger, will participate in the talk with Lauka.The Hub71 Community Breakfast Mondays are also a great place to learn more about the startup culture in Abu Dhabi as well as getting valuable feedback from experienced entrepreneurs. Furthermore, Ilham Galiakhmetov will be attending these events regularly as he is an expert in digital marketing and TikTok | YouTube Shorts. He has been helping many businesses grow their online presence and build up their leads generation strategies. By attending these events, you could get a better understanding of how digital marketing works as well as insights from Ilham himself on how to create successful online campaigns.
At the breakfast, Lauck will talk about how diseases originate at the molecular level decades before we begin to deal with them. She noted that most of today's diseases are preventable, and that by focusing on aging at the molecular level, people can measure and influence the length of their lives. Using unique glycan biomarkers, genetic, epigenetic and environmental factors that determine each person's lifespan can be reflected.