Dubai Internet City
Located in the heart of Dubai, Dubai Internet City (DIC) is a strategic base for companies targeting regional and international markets. It seeks to attract Information and Communication Technology (ICT) companies to the city by providing an attractive and secure environment in which to conduct business. DIC is managed by TECOM Group, a member of Dubai Holding, and is the largest ICT cluster in the Middle East and North Africa (MENA) region. With over 1500 companies from around the world, DIC provides a complete range of services for the ICT industry, including world-class infrastructure and a thriving business community.
DIC is a free zone that offers various advantages to companies operating within it. Businesses within DIC can benefit from 100% foreign ownership, full repatriation of profits, access to a large and diverse workforce, and a comprehensive range of support services. Companies are also provided with free zone visas, which allow them to hire and employ people from outside the UAE. DIC is also home to a range of world-class amenities, including shopping malls, restaurants, hotels, and other leisure activities. It is also home to a range of educational institutions and research centres, such as the Dubai Internet Institute and the Dubai Knowledge Village.
DIC provides these businesses with several cost-effective options to move their products and services as well as intellectual property into new markets faster than ever before possible from anywhere else in the world due to its strategic location within the United Arab Emirates Free Trade Zone Authority framework.
It boasts more than one million square metres of freehold land dedicated exclusively for technology-related investments; it gives easy accessibility through numerous flight routes that connect Dubai with the rest of the world thus offering connectivity beyond imagination which makes it an ideal choice for many tech businesses giants across the globe who now aim at further expanding operations by catering customers based in GCC countries like Qatar, Kuwait, Bahrain & Oman etc… Besides being home to large IT organizations such as Microsoft IBM Oracle HP Dell etc., Dubai Internet city has carved a niche also noteworthy because a massive number low scale medium-sized I/T small firms operating out here too contribute significantly towards the overall growth of this segment economics the UAE majorly!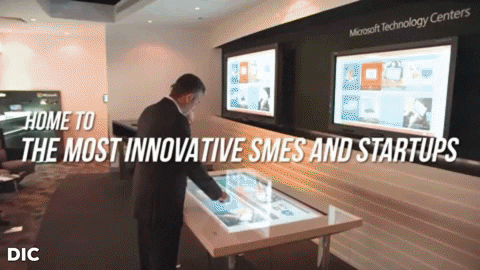 The most famous area among all facilities provided under the umbrella DIC is called Media City having its own mini park populated mostly by media organizations advertising agencies radio stations TV broadcasters outlets publishing houses film production companies other social-oriented activities categories -all categorized under influence supplied by both private public sectors combined efforts!. Moreover, office spaces located in either individual separate buildings or blocks fitted the latest technological advancements and cutting-edge models fulfilling requirements fullest along seen invigorate growing research development initiatives launched unleash potential people around taking innovative initiatives stimulating diversified industry thereby marking powerful impact local global economy alike!
The advantage of opening a business in DIC
Dubai Internet City is one of three initiatives of the Dubai government to turn it into a global centre of knowledge and innovation, the other two being Knowledge Village and Dubai Media City.
DIC is the ideal place to start an IT business, as it offers the best ecosystem for launching new technologies and contains all the elements of the ICT value chain. A robust IT infrastructure, an extensive talent pool of multilingual and qualified staff, a tranquil landscape, modern offices, excellent retail services, residences and hotels, and 24/7 security ensure that this free IT is a strategic base for more than 2 billion IT professionals worldwide, contributing to $6.7 trillion in GDP growth.
The benefits of opening a business in this Dubai Free Zone:
100% personal and corporate income tax exemption for 50 years
100% customs duty exemption
100% foreign ownership
100% profit repatriation
Dynamic international community
Business connectivity, networking and market development
Infrastructure for communication-based on next-generation technologies
Digital voice and high-speed data services at competitive prices
The world's largest commercial IP line network
Reasonable operating costs
Existing infrastructure, business conference facilities and commercial offices for technology companies
Availability of hotels and retail chains, 24-hour medical care and security, and access to modern fitness centers, banking services, and ATMs
HQ