Appska company

Appska is a full-service performance marketing agency. Appska provides its partners with a complete set of services, including affiliate marketing, in-app advertising, and media buying. Additionally, they leverage over 150 traffic sources and advertise on the most effective digital channels on the market, such as Google and Facebook. What sets Appska apart from other digital agencies is that they have an in-depth understanding of the mobile app industry. They specialize in creating optimized campaigns for driving mobile app downloads for various platforms such as Apple App Store and Google Play Store. Their speciality also includes influencer marketing on platforms like Instagram to increase brand awareness among target audiences and generate high-quality leads from within the region.
Appska's team consists of performance experts who have experience running global campaigns. By leveraging their advanced solutions for user acquisition and retargeting, clients gain access to an even more abundant source of potential users and benefit from seamless campaign management at all levels, regardless of the client's budget size or goals. Moreover, ambitious entrepreneurs can use Appska's comprehensive solutions to compare different channels to identify which one works best for their project, attract new users at scale via a data-driven strategy and optimize campaigns while keeping a close eye on the returns they bring in – both short-term and long-term ones alike. As such, businesses that choose to work with Applications are likely to benefit significantly due to its integrated and cost-effective solutions tailored towards online success.
Appska is taking the digital entrepreneur space in Dubai by storm. The innovative technology solutions provided by this company have recently been recognized as it received a spot in the 'Top Mobile Ad Platform' and 'Top Demand Side Platforms' of 2022. In just a matter of a few years, Appska has made its mark on the business of apps in Dubai, offering cutting-edge services and features tailored to best meet the needs of entrepreneurs. With unmatched customer service, performance optimization, and experienced professionals to guide their clients in the world of digital marketing, Appska is becoming an authority for digital entrepreneurs, setting an example for future business owners looking to make it big in tech.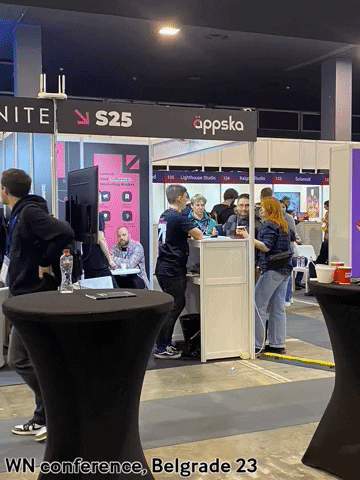 WN Conference
WN Conference is an online communication platform that connects everyone involved in the game industry, from developers and publishers to independent contractors and investors. It is a unique way to make business connections and find new opportunities. With the WN Conference system, professionals have the chance to learn from industry-leading experts, and build relationships with those who might potentially become partners in the future.
Glocal from In5 and Appska found a common interest with a comprehensive suite of services. Glocal helps Appska's partners optimize their websites for international search engine rankings, while IN5 provides Appska's partners with access to a wide range of media buying options. This combination of services helps Appska's partners reach a global audience and maximize their ROI. IN5 also provides Appska's partners with access to a wide range of affiliate marketing opportunities, allowing them to monetize their websites and apps. With the help of IN5 and Glocal, Appska's partners can reach a global audience and maximize their ROI.
Appska offers a comprehensive suite of services, from affiliate marketing to drive active users to clients, to in-app advertising to reach new customers, and media buying to expand visibility and sales. In turn, In5 strategically targets high-impact campaigns to ensure maximum engagement and higher return on investment. The combination of Appska's data-driven approach and In5's sophisticated innovation has resulted in greater success for both companies, giving them a strong foothold in the burgeoning market of start-up businesses. Together, they're ready to propel businesses in the digital and mobile industries forward with the help of technology.
Appska was a major presence at the WN Conference, an annual gathering of the top minds in the tech industry. The company showcased its innovative solutions for mobile app development, highlighting its unique approach to creating custom, high-performance apps. Attendees of the conference were able to view Appska's portfolio of work and learn more about the company's approach to app development.
GLOCAL
In today's digital age, entrepreneurs are increasingly looking for ways to scale their business beyond their local market. Enter the UAE's IN5 and Glocal, a powerful international SEO tool designed to optimize websites in 88 languages in 100 countries and 275 major cities around the world. With the fastest serverless network available, Glocal helps improve website visibility in search engine results internationally. For ambitious entrepreneurs looking to expand their reach, this service is invaluable.Gloc.al is the #1 SaaS product of the week at Product Hunt .Founded by Olga Nayda and Alexey Dolgikh (Co-founder & CVO), Gloc.al is a powerful tool that allows users to build their own websites and get connected with potential partners and clients across different industries worldwide.
INNOVATION CENTER IN5
Located in Dubai Internet City, In5 is a one-stop shop for entrepreneurs looking to turn their ideas into reality. It provides exclusive access to mentors, incubators, co-working spaces, and other resources to help entrepreneurs develop their business ideas. It also offers investors a chance to work with high potential start-ups from across the region. Perhaps one of the best features of In5 is its collaboration with global giants such as Microsoft, Oracle, and Amazon Web Services. This enables entrepreneurs to access resources that would otherwise be unavailable or too expensive. Startups at In5 also benefit from mentorship programs provided by leading industry experts who offer invaluable advice and guidance on how.
Exploring the Advantages of Appska for Entrepreneurs in Dubai
1. Appska offers comprehensive services for entrepreneurs in Dubai, including affiliate marketing, In-App advertising, media buying and influencer marketing.
2. Access to premium ad platforms such as Facebook, Google and Instagram is provided by the agency.
3. Diversity of traffic sources – 150+ channels make sure that users from all around the world can reach your apps and services.
4. High-quality user acquisition with a continuous flow of users thanks to insight-driven data analysis techniques used by Appska.
5. Targeted marketing campaigns that include personalized features through geo-location tracking and specific vertical optimization techniques used by the team at Appska.
6. Ability to promote mobile apps in any GEO or vertical increases the customers' visibility and accessibility potential tenfold for entrepreneurs in Dubai who use Appska services.
7. Local teams based in each region, especially in Dubai, guarantee a wide range of non-stop quality service options for entrepreneurs using Appska's performance marketing solutions there.
8. Transparency in terms of costs and performance metrics displayed on the Ads Onboarding statistics sharing system allowing 24/7 monitoring for entrepreneurs running their business with Appska in Dubai.
9. Experienced team who know how to leverage innovative strategies online to permit all entrepreneurs – regardless of budget – to access premium platforms and tap substantial customer segments inside the 52 countries offered by this full-service performance marketing agency.
10. Charting out an efficient content marketing plan customized to suit your core Dubai audience needs is now feasible with Appska's dedicated expertise perfected with years of experience behind it!