In an era dominated by the pressing issue of climate change, the next decade holds the key to mitigating its effects and developing strategies for adaptation. The Middle East and North Africa (MENA) region, known for its oil wealth, is now stepping up its game in climate tech innovation. This paradigm shift, fueled by collaboration and technological ingenuity, is shaping a sustainable future for the region. In this article, we delve into how climate tech innovation in MENA is evolving and explore the challenges and opportunities faced by green startups.
The MENA Alliance for Climate Innovation
In a world where climate change respects no borders or politics, collaboration is the cornerstone of success. The MENA Alliance for Climate Innovation, launched by Israeli non-profit Start-Up Nation Central (SNC), embodies this spirit. Its aim is to foster regional collaboration between businesses focused on weather, security, energy, and climate. Aviva Steinberger, SNC's innovation diplomacy director, emphasizes that "to effectively tackle climate change, we all need to work together."
One outstanding example of this collaboration is Beewise Technologies, a UAE-backed Israeli startup using AI and advanced robotics to save honeybees, critical pollinators essential for human food production. Saar Safra, co-founder, and CEO of Beewise Technologies, notes that "75% of all the fruit, vegetables, seeds, and nuts for human consumption are pollinated by bees." However, nearly 40% of bee colonies are wiped out annually.
Beewise's innovative solution is the solar-powered BeeHome, a "smart hive" equipped with sensors and cameras. A robotic arm inside the hive manages temperature, humidity, pests, and honey collection. The startup has secured $120 million in investments, with the MENA region showing significant interest, especially after disruptions in global food supply chains during the COVID-19 pandemic.
Filling the vacuum in regional demand, Beewise found a natural fit in the UAE due to its specific requirements for pollination and honey production. This synergy was made possible through the Abraham Accords, which normalized diplomatic relations between Israel, the UAE, Bahrain, Sudan, and Morocco.
The MENA Alliance's Pillars: Data Sharing and Entrepreneurship
The MENA Alliance for Climate Innovation has two fundamental pillars. Firstly, it encourages the free sharing of data, including the actual costs of implementing climate technologies. Secondly, it seeks to incentivize entrepreneurship. This initiative aims to bridge the gap between innovative ideas at the university level and their implementation in the business community, a challenge faced globally. Israel's success in fostering an entrepreneurial ecosystem serves as a blueprint for the region.
Israel boasts approximately 700 startups and companies in the climate sector, covering renewables, transportation, mobility, and agri-tech. This thriving ecosystem is a testament to the potential for green innovation.
Regional Cooperation: Green Solutions Beyond Borders
Cooperation among regional players is driving climate tech innovation in MENA. For instance, Israeli startup SupPlant and Moroccan agri-tech firm Rahatech are collaborating to develop customized irrigation protocols for various crops in Morocco. SupPlant's technology, if applied to all of the UAE's palm trees, could save the arid nation 70% of its water consumption.
In another partnership, Israeli startup H2Pro is working with Morocco's Gaia Energy to build a green hydrogen production demonstration plant. This project not only advances technology but also exemplifies the power of regional cooperation in addressing climate change.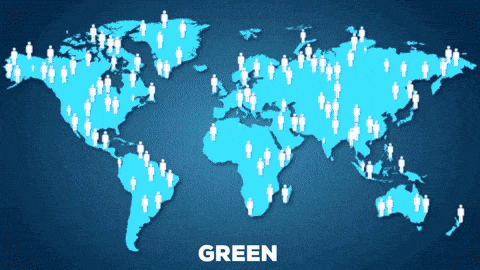 The MENA Region's Role in Climate Action
The MENA region plays a pivotal role in climate action due to its significant fossil fuel resources and potential for clean energy adoption. Countries like the UAE and Saudi Arabia have committed to decarbonization plans. However, others require more support. Regional collaboration can set a new pace for practical climate initiatives.
Challenges Faced by Green Startups
While sustainability is on the rise in the region, green startups face unique challenges. Despite their commitment to environmentally friendly products and services, they often struggle to attract investments. In 2022, most funding went to fintech, logistics, and e-commerce startups, leaving green startups in search of alternative paths to success.
Sustainable options tend to be costlier due to the complexities of recycling and producing eco-friendly products. Green startups must find ways to convey the value of their products to customers, who sometimes expect recycled products to be cheaper. Additionally, capital-intensive operations and uncertainty pose barriers for startups operating in manufacturing or recycling.
Becoming Investible
To attract investments, green startups must demonstrate their viability and measure their impact. Investors seek startups with the right team, a good product-market fit, scalability, and a clear path to profitability. For green startups, measuring and managing their impact is vital to proving their contribution to environmental goals.
Looking for Alternatives: Partnerships and Revenue Diversification
In a challenging investment climate, green startups can explore alternative strategies. Partnerships with organizations that share their mission can provide exposure and support. Diversifying revenue streams and focusing on profitability can also help startups survive tough times and build investor confidence.
The Road Ahead: Promoting Sustainability
Initiatives like the Access Sharjah Challenge and the upcoming COP28 in the UAE are promoting sustainability in the MENA region. As awareness of sustainability grows, investments are likely to increase. Globally, climate tech funding reached nearly $82 billion in 2022, marking a significant opportunity for value creation.
As the MENA region slowly embraces sustainability, green startups are poised to make a substantial impact in one of the world's most vulnerable regions to climate change. The transformation is underway, and it is fueled by innovation, collaboration, and the determination to create a sustainable future for all. By working together, the MENA region can lead the way in addressing the global climate crisis.
Join the Climate Tech Revolution
The MENA region stands at the forefront of climate tech innovation, with green startups leading the charge. These startups are not only driving sustainability but also offering innovative solutions to pressing environmental challenges. While challenges exist, their determination to create a sustainable future is unwavering.
To support the green startup revolution in MENA, consider investing in or collaborating with these trailblazing companies. By doing so, you can be part of the solution to the climate crisis and contribute to a more sustainable future for our planet. Join the movement, and together, we can make a difference.
As consumers and businesses, we all have a role to play in the climate tech revolution. Embrace sustainability in your daily choices, support green startups, and advocate for climate-conscious policies. Together, we can create a greener, more sustainable future for the MENA region and the world.